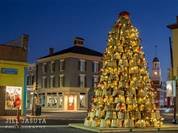 Whether you're decking the halls, getting crafty, or checking in with Santa … there's something extra special about Christmas in the Heart of Chesapeake country. From the Crab Basket Tree to the "deadrise" New Year's Eve boat drop, make it an Eastern Shore holiday this season! The Dorchester County Tourism Office put together this great list of Holiday events. Visit their website for complete list of events and details.
Ho-Ho-Holiday Fun, Santa Sightings & Festive Lights
Christmas Train Garden – Gaze in wonder at Cambridge's train display downtown every day in December. For more than 80 years, volunteers with the Cambridge Rescue Fire Company have created this spectacular train garden for the holidays. Sneak peek Nov. 25 right after the Tree Lighting. Open daily, Dec. 1-31, Mon-Fri, 6-9pm and Sat & Sun 1-4pm and 6-9 pm. Free
Santa in Downtown Cambridge – Visit with Santa in Cannery Way (brick courtyard in the 400 block of Race Street in Downtown Cambridge) from 3 to 8pm on Dec. 1, 8, and 15.
Santa's North Pole Vault – Katie Mae's Restaurant has turned what was once a bank vault into a spot for Santa! He'll be stopping by regularly starting Saturday, Dec. 1 from 12-2pm. Then Fridays (Dec. 7, 14, 21) from 6 to 8pm and Saturdays (Dec. 1, 8, 15, 22) from 12 to 2pm.
Crab Bushel Tree– In five short years, Cambridge's Crab Basket Tree has become one of the Shore's favorite holiday destinations for family photosMarvel at 200 crab baskets used to make this holiday wonder in the Craig's Drug Store parking lot.
Free Holiday Movies – Cambridge Premier Cinemas hosts a FREE Holiday Movie Series. Enjoy Christmas classics and holiday fun every Saturday and Sunday in December. Fun for the whole family! Most movies start at 10:30am.
Breakfast with Santa at Water's Edge – Have Breakfast with Santa at the Hyatt's Water's Edge Grill on December 8, 15 and 22.
Old Fashioned Christmas Second Saturday – Stroll the streets of Downtown Cambridge Dec. 8 for a festive, family affair. Hear carolers, attend a music recital at 447, or the Ginger Cats at Black Water Bakery. Stop by the Dorchester Center for the Arts' Gallery of Gifts and reception. Visit with Santa at Katie Mae's during the day and Cannery Way, 5-8pm. Bundle up for carriage rides through Downtown from Simmons Center Market. Visit DowntownCambridge.org for updated schedule.
Winter Wonderland Music and Tree Festival – Enjoy a magical winter wonderland as Governor's Hall is decked with a grove of festively decorated trees on Dec. 15 from 5 to 9pm at Sailwinds Park. Christmas chorus musical, silent auction, pictures with Santa, and refreshments. $5 Admission.
Christmas Cookie Wine Pairing – Head to Layton's Chance Winery for tasty pairings of four different Christmas cookies and four different wines. December 16.
Downtown Santa Trail – Downtown Cambridge's merchants are excited to launch a new festive tradition. Come downtown Dec. 15 from 3 to 7pm to track down Santa. Follow and collect clues to learn Santa's location. Use your secret password to meet and visit with Santa! Treats and kids' activities at every stop. Fun for the whole family
Firemen's Festival of Trees – See beautiful trees, bid on your favorites, and bring the kids for hands-on crafting fun at Santa's Workshop on Dec. 15 at the Hurlock Volunteer Fire Co.
Luminaria Night Celebration – Glowing luminarias line the streets of Vienna, a 300-year-old town on the Nanticoke River, Dec. 15, 5 to 8pm, for this treasured holiday tradition. Historic homes and churches open their doors for tours, music, refreshments, and old-fashioned hospitality. Free. Tickets are $5 for home tours.
Cookies with Santa at 447 – Groove Theatre Company hosts a visit with Santa, complete with story reading, Christmas card making, and photos with Santa at 447 in downtown Cambridge. Dec. 21 from 4 to 7pm.
Santa at Cabin Fever Play Centre – Santa will visit Cabin Fever on Dec. 23 from 1 to 4pm. Sweet treats available. 442 Race Street in Downtown Cambridge.
New Year's Eve & New Year's Day
New Year's Eve Deadrise Drop – Join in the celebration in Downtown Cambridge as folks gather to watch a small replica of a deadrise – the traditional waterman's boat – travel down 70 feet of track at midnight to ring in 2019.
First Day Hikes – Welcome a recent New Year tradition – the "First Day Hike" – in two of the Heart of the Chesapeake's most beautiful settings on Tues., Jan. 1. Choose from either the Harriet Tubman Underground Railroad State Park & Visitor Center (10am and 1:30pm) or Blackwater National Wildlife Refuge (10am). Reservations required. Visitor Centers will be open until 5pm and hot drinks and light snacks will be served.