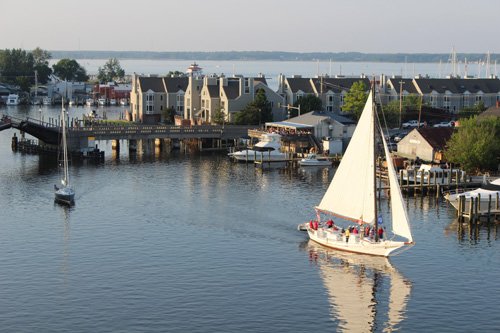 Nestled between the Little Choptank and Choptank rivers, Cambridge – and the beautiful peninsula known as the Neck – is highly desired by full-time residents and second home owners. With an expansive waterfront, historic colonial charm, and diverse inventory of architectural styles, Cambridge was voted one of America's best small towns by Coastal Living magazine.
Cambridge
The county seat of Dorchester, Cambridge is lined with indie shops, art galleries, and specialty services. Dozens of new and expanding restaurants have made Downtown Cambridge a celebrated dining destination. The city is also home to the Dorchester Center for the Arts, Grand National Waterfowl Hunt, IRONMAN Maryland, Taste of Cambridge, RAR Brewery, and many of the shore's best festivals.
The 400-room Hyatt Regency Chesapeake Bay – voted Maryland's top resort and one of the region's most romantic destinations – has an 18-hole championship golf course, 150-slip marina, luxury spa, condos and townhomes for year-round resort living.
Cambridge neighborhoods within and outside the city limits offer a wide variety of housing types and prices. From waterfront homes and water privileged communities to more modest homes, residents enjoy access to free public boat ramps, tennis courts, sports fields, playgrounds, and incredible views of the Choptank River.
Local amenities include shops, restaurants, parks, marinas, and entertainment venues within walking or biking distance.
Housing options range from modern waterfront condos and townhouses to historic residences, and single family homes. Neighborhoods include:
Algonquin and Hambrooks – and its surrounding waterfront and inland neighborhoods have a variety of home styles outside the city tax district
Cambridge Creek – Waterfront condo and townhomes include Deep Harbour, Harbor Haven, Harbor Watch, Waterside and Cambridge Landing
New Communities – built by Lennar, Gemcraft Homes and Richmond American in the 2000s, include Blackwater Landing, Cattail Crossing and Long Boat Estates
Historic West End District – Classic homes from the late 1800's to early 1900s near the Choptank River, Cambridge Yacht Club and Marina and walking distance to Downtown
Bonnie Brook and Whitehall – Single family homes north of 50 offering larger lots of .5 to 2 acres
Dorchester's Neck District
Stretching from the former DuPont Hunting Lodge (now home to the University of Maryland's flagship Center for Environmental Studies) 16 miles southwest on Hudson Road to Ragged Point — where the Choptank and Little Choptank rivers meet the Chesapeake — the Neck has been a center of exploration, agriculture and recreation for hundreds of years.
Working farms and private hunting lands impart a peaceful solitude to the vast expanse of waterfront seemingly untouched by time or development.
From Hudson Road, travel the peninsula's necks, points and wharfs where farms, estates and residential neighborhoods reflect the graceful beauty and rich history of each waterfront community. Residential areas are often referred to by their respective road names and include: Hudson, Lloyds, Morris Neck, Casson Neck, Ross Neck, Hills Point, Ragged Point, Todd Point, Cooks Point, and Twin Point.
Popular destinations along the peninsula include the Neck District Grill (the former Lewis General Store), Spocott Village and Windmill, Soft & Salty's, and the University of Maryland Center for Environmental Studies.
Area Listings