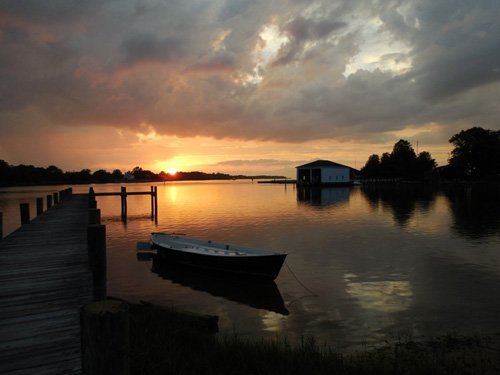 Situated along rivers, creeks and the Chesapeake Bay, Dorchester County's picturesque waterfront villages offer a serene and scenic lifestyle. Anchored by local churches, fire halls and general stores, these charming communities are a haven for residents and second home owners who embrace the working heritage and authentic Chesapeake Bay lifestyle. Old Trinity Church on Church Creek, is the oldest continually operating Episcopal Church where boating to church is not only permissible but also encouraged!
Church Creek
Southwest of Cambridge, Church Creek was established in the early 1700s. Located on protected waterways leading to the Little Choptank River and close to an abundance of oak and pine suitable for boatbuilding, it gained prominence as a center of shipbuilding. Today, commercial watermen keep workboats on Church Creek.
Residents enjoy shopping at Emily's Produce, a large seasonal farm stand offering home grown produce, fresh baked goods, hanging baskets, and a children's play area. The Blackwater National Wildlife Refuge and the Harriet Tubman Underground Railroad Visitors Center have established Church Creek as a premier destination with birding enthusiasts and history buffs from around the world.
Madison
Once known as Tobacco Stick, Madison is located on Taylors Island Road (Route 16) between Cambridge and Taylor's Island. This unincorporated town of 200 was settled on Madison Bay in the 17th Century.
Today, Madison is a quiet waterfront community with large single family homes, historic farm houses and hunting lodges. Historic markers tracing the area's history back to the 1600s are a common sight. Purchase fresh crabs and oysters at Lindy's Seafood and explore the nearby Blackwater National Wildlife Refuge.
Woolford
Situated between Church Creek and Madison on Taylors Island Road (Route 16), Woolford is named after Col. Roger Woolford who moved here from Somerset County in 1696. Steeped in history, the waterfront community is surrounded by the Little Choptank to the north and hunting preserves and farms to the south.
Residential communities – Deep Water Estates and Deep Point (where summer cottages have been converted to year-round residences) and McKeil Pointe – feature large waterfront lots with traditional homes. The Woolford Store, a community café and country store tracing its roots to the Civil War, serves residents, tourists and hunters.
Taylors Island
Located between the Chesapeake Bay and Slaughter Creek, the area is one of the earliest settled by Europeans in 1662. Approximately eight miles long and two miles wide, The Blackwater NWR, Taylors Island NWRA, and surrounding lands are prime hunting grounds for white tail and sika deer, turkey, ducks and geese. Known for its historic churches and spectacular sunsets. Many sites here are listed on the National Register of Historic Places.
The Slaughter Creek Marina at the Island's gateway has boat slips, rentals, ship's store and popular waterfront restaurant, Palm Beach Willie's. The Chapel Cove Marina also has a bait and tackle shop.
Taylors Island homes include award-winning contemporary architecture, magnificent hunting properties, farms and simple waterfront homes to enjoy spectacular sunsets across the Chesapeake Bay.
Hoopers Island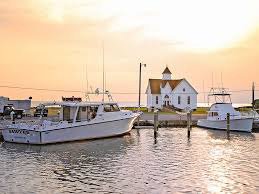 Settled by Henry Hooper in 1669, Hoopers– a chain of three islands surrounded by the Chesapeake Bay and Honga River – is renowned as the center of Dorchester's sport fishing, crabbing and oyster aquaculture industries. Connected to the mainland (Golden Hill) by high arched bridges, the picturesque village of Fishing Creek is home to many families who continue to make a living working the water.
The area is a magnet for second home owners attracted to the spectacular boating, waterfowl hunting, seafood and sunsets. Popular destinations include the Hoopers Island General Store, Old Salty's Seafood Restaurant and the volunteer fire company's boat docking contest held at the Jones Boatyard and Marina, where they still build custom craft.
Home to 450 residents, Hoopers Island contains single family homes – most with water frontage, views or access – including bungalows, traditional homes and sport fishing and hunting lodges.
South Dorchester
The communities of South Dorchester – Crapo, Wingate, Toddville, Bishops Head and Crocheron – known for their beautiful salt marshes, traditional working waterman, sport hunting of sika deer and waterfowl. The rustic peninsula is surrounded by Fishing Bay and Honga River.
Vienna
Settled on the banks of the meandering Nanticoke River adjacent to Wicomico County, Vienna was formally founded in 1706. Rich in tradition and history, it was first mentioned by Capt. John Smith when he explored the Chesapeake in 1608.
With high and dry grounds, the town's centerpiece is the Nanticoke River Walk, Marina and River Pavilion, home of free community concerts and seasonal festivals along historic Water Street. Visitors are drawn to the Captain John Smith Chesapeake National Water Trail and Nanticoke River Discovery Center. Other destinations include Millie's Roadhouse and Layton's Chance Vineyards.
Residents enjoy easy access to U.S. Route 50 with Salisbury only 20 minutes to the east and Cambridge equidistance to the west. Marked by historic and diverse architectural styles, Vienna homes are mostly single family from the 19th and 20th centuries.
Area Listings